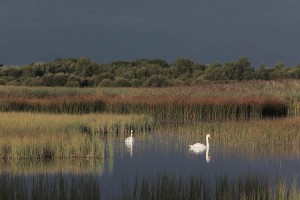 Ballinafagh Lake was constructed as a reservoir (serving the Blackwood feeder) for the Grand Canal, but when the new Allen power station needed to take cooling water from the canal a new more plentiful supply was provided by the ESB drawn from the River Liffey. Since then with the resulting filling in of the Blackwood (Coill Dubh) feeder (circa mid-1940s) the reservoir has been allowed to return to nature. The lake is now a wildlife refuge and is again being actively managed to ensure that the bio-diversity built up over fifty years is maintained.There is a car park on site, and a circular walk around the lake.
The lake supports many bird species, including kingfisher, little grebe, mallard, coot, snipe, water rail, sedge warbler, reed bunting, and whitethroat to name a few.
The lake is about 3 km from the village of Prosperous. Take the Staplestown Road from Prosperous and keep to the left at the fork in the road. Continue on this road for 2.5 km, then take the left towards Ballinafagh lake (signposted) driving past the ruined church in the field on the right. The road turns to the right and the entrance is on the left-hand side shortly after this bend. The link below will help you.
It can be very boggy at Ballinafagh so wellies or good hiking boots are recommended when visiting.