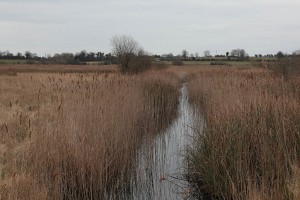 Pollardstown Fen is the largest remaining spring-fed fen in Ireland and is a very important site, nationally and internationally. It is an alkaline, calcareous fen that is fed by calcium rich water from over 40 water springs which originate from the Curragh aquifer.
It is a post-glacial fen which began to develop approximately 10,000 years ago when the area was covered by a large lake. Over time this lake became filled with dead vegetation which accumulated and eventually turned to fen peat. The calcium rich water found here prevented the usual change from fen to raised bog and continues to prevent this process today.
The fen is largely composed of reedbeds, freshwater pools, patches of scrubland and a large woodland area that lies at the western end of the reserve. The site also contains a priority habitat, calcareous fens with saw sedge, a fen community only described in Ireland and northern-West France! It also contains the priority habitat of petrifying springs with tufa (a rock type) formation, as well as many non-petrifying springs.
The site, which was designated a nature reserve in 1986 is around 188 hectacres in size. It has been designated as a special area of conservation (SAC) under the EU habitats directive, and an internationally important wetland and a Council of Europe biogenetic reserve due to its uniqueness and the flora and fauna it supports.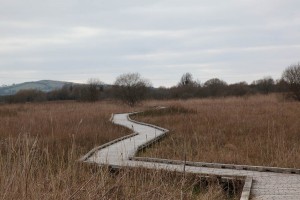 Birds that you may see there:
Resident/all year: mute swan, mallard, teal, pheasant, little grebe, grey heron, buzzard, sparrowhawk, kestrel, water rail, moorhen, coot, curlew, snipe, feral pigeon, wood pigeon, collard dove, long-eared owl, kingfisher, meadow pipit, donnock, robin, song thrush, mistle thrush, blackbird, blackcap, goldcrest, wren, great tit, coal tit, bluetit, long-tailed tit, treecreeper, magpie, jackdaw, rook, hooded crow, starling, house sparrow, chaffinch, linnet, redpol, goldfinch, greenfinch, bullfinch, read bunting and yellowhammer.
Migratory spring/summer: cuckoo, swift, sand martin, (barn) swallow, house martin, white throat, sedge warbler, grasshopper warbler, willow warbler, chiffchaff, spotted flycatcher. Autumn/Winter: shoveler, wigeon, tufted duck, golden plover, herring gull, lesser black-backed gull, redwing, field fair.
Occasional/rare: whooper swan, gadwell, pintail, red-legged partridge, glossy ibis, white-tailed eagle, osprey, marsh harrier, hen harrier, peregrine falcon, merlin, barn owl, whinchat, savi's warbler, reed warbler, wood warbler, raven.
Other wildlife that can also be found at the site include:
Mammals: fox, badger, otter, pine marten, rabbit, hare and at least one species of bat (possibly daubenton's bat and pipistrelle species).
Butterflies: speckled wood, small copper, green-veined white, common blue, small tortoiseshell, orange tip, peacock, meadow brown, small heath, red admiral and the rare marsh fritillary.
Dragonflies & Damselflies: common darter, large red damselfy, common blue damselfly, variable damselfly, common hawker, brown hawker and the emperor dragonfly.